This post we cover our first project and snack preparation.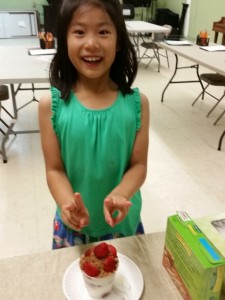 The first 2 weeks flew by at Lin Learning Center. Children have been very busy settling down, getting to know the teachers and friends and getting involve in a project. The first project that we tackled as a group was going through a design process, incorporating math skills to design a place to hang cloths and jackets on the classroom walls.
Thus we really need a creative idea to work with a limited, shared space. As a team, we decided that placing hooks on the wall was the best choice for the solution. Once the choice was made, children had to come up with design that allows hanging of 25 jackets or coats around the classroom. As children were constructing a design, they realized that a lot of information were needed to create a detailed design drawing to make a good plan.
First, the children needed an understanding of the physical area that they were working with. Given the size of the area that they were working. A great teamwork was required to get all information that they needed. During the process, there were many interesting conversations among the children about where hooks should be placed, how high they should be up from the floor, how far they should be from door, how far off each hook should be, and how do we accommodate different height of individual students.
After many days of measuring, drawing, calculating, selecting colors, painting hooks, and making name tags, they were able to place hooks on the wall. Look how precisely hooks are aligned on the wall. Thanks to children working very hard. Lin Learning Center now has a place to hang our clothes.
Best of all, snack making appears to the highlight of each day. Our children frequently asks, "what are we making today"? We provide children (& parents) a picture with a recipe of the snack that we make each day. Reading the recipe and associating it to a picture of food takes creativity and great imagination of how food is made. After careful thought process of what and how much ingredients children need and the sequence to follow to make the final product, children go through actual snack making. Children are very proud of their creation. Each month, we will tally up which snack was voted the most favorite by our children.
Children also have a chance to enjoy an outdoor hot and humid weather. Thanks to our town, Billy Ward playground continues to have water fountain running and it provides children a lot of fun water play for many days.